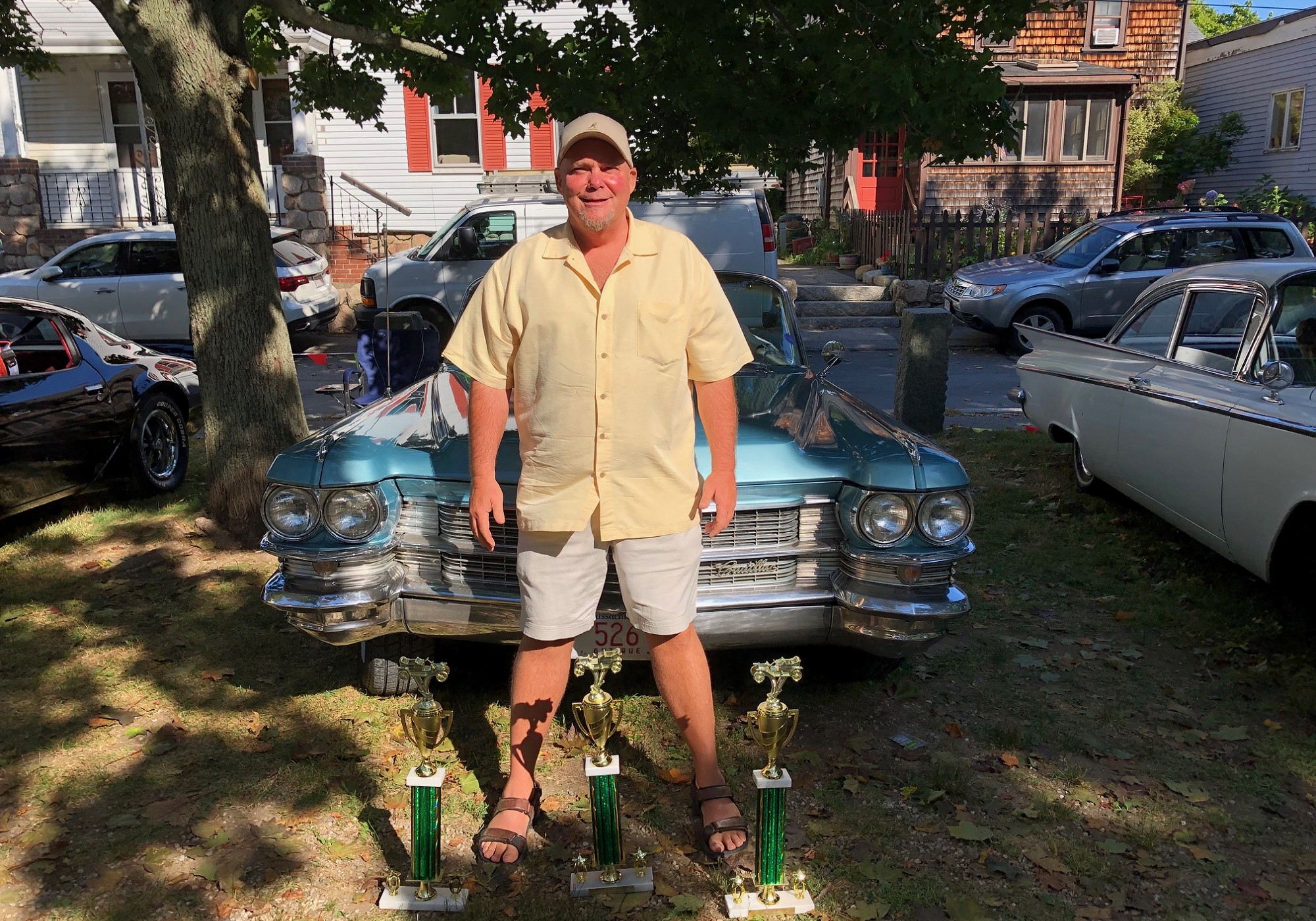 Second Annual Classic Car Show Kicks off Gloucester Meetinghouse Foundation's Autumn-Winter-Spring Program Season!
---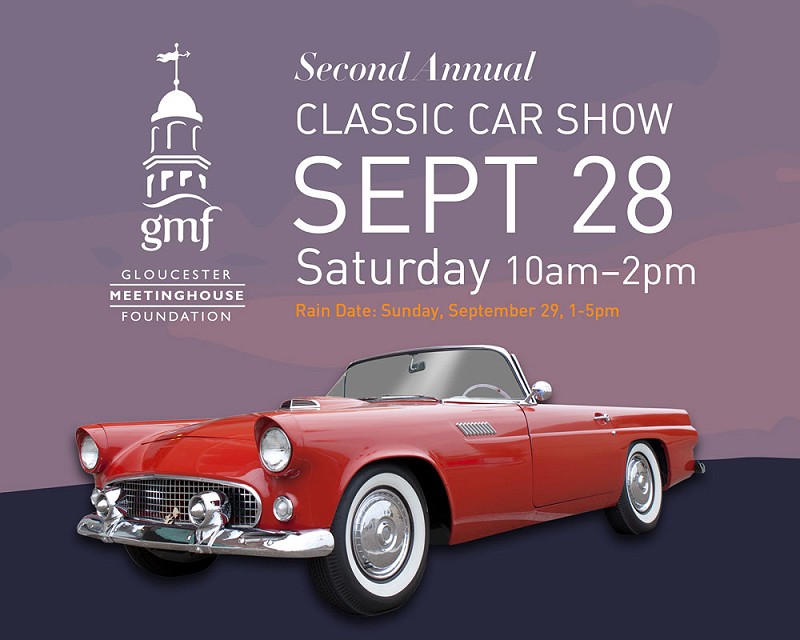 A picture perfect early fall day set the scene for the Gloucester Meetinghouse Foundation's second annual Cape Ann Classic Cars on the Green on Saturday, September 28. More than 30 antique and classic cars lined the historic Meetinghouse's grand allee while scores of car enthusiasts, families, and visitors to Gloucester strolled the promenade. John Hicks and his Giddy Gang provided the perfect accompaniment with their distinctive Dixieland band.
Entries to the invitational show spanned more than 50 years with two 1923 Model T's representing the earliest entries and a 1979 Firebird TA as the most recent. Both visitors and owners voted for their favorite cars in nine categories ranging from Best in Show to Most Luxurious, Most Ostentatious, and Most Fun. The runaway winner for the day was the 1963 Turino Turquoise Cadillac convertible owned by Tim Sparks of Lowell. The '63 Caddie was the crowd favorite for Most Elegant, Most Luxurious, and Grand Touring/Comfort.
Tours of the historic 1806 Meetinghouse were a popular attraction. Among the building's many historic and notable details and treasures, visitors were most intrigued by the 1785 charter signed by freed slave Gloster Dalton and the role that the Meetinghouse played in the legal battle that resulted in the incorporation of a policy around the separation of church and state in the United States Constitution. Bob Wech, Music Director for the Gloucester Unitarian Universalist Church thrilled visitors with a rousing mini-concert on the 1893 Hutchings-Fisk pipe organ to complete the tour.
Congratulations to all the 2019 winners!
| | | | |
| --- | --- | --- | --- |
| FIRST PRIZE | BEST IN SHOW | 1957 Chevy Belair convertible | John Ross, Ipswich |
| ELEGANCE | MOST ELEGANT | 1963 Cadillac convertible | Tim Sparks, Lowell |
| LUXURY | MOST LUXURIOUS | 1963 Cadillac convertible | Tim Sparks, Lowell |
| GRAND TOURING | COMFORT | 1963 Cadillac convertible | Tim Sparks, Lowell |
| SPORT | BEST FOR RACING | 1967 Cobra | John Pardee, Rockport |
| OSTENTATIOUS | SHOWIEST | 1958 Ford Skyliner | Nick Anderson, Hamilton |
| PRACTICAL | MOST USEFUL | 1946 Studebaker MS | Jonathan Poore, Hamilton |
| BEAUTIFUL | BEST STYLED | 1957 Chevy Belair convertible | John Ross, Ipswich |
| DELIGHTFUL | MOST FUN | 1964 Comet Caliente convertible | Deb and Lauren Boudreau-Steeves |
Photos by Lauren Boudreau-Steeves, Rick Isaacs, and Charles Nazarian
Help us spread the word!
You can help us spread the word by sharing this on Facebook, Twitter, Google Plus, or by Email... thanks!