Symposium Speakers Discuss Future of Housing in Gloucester
---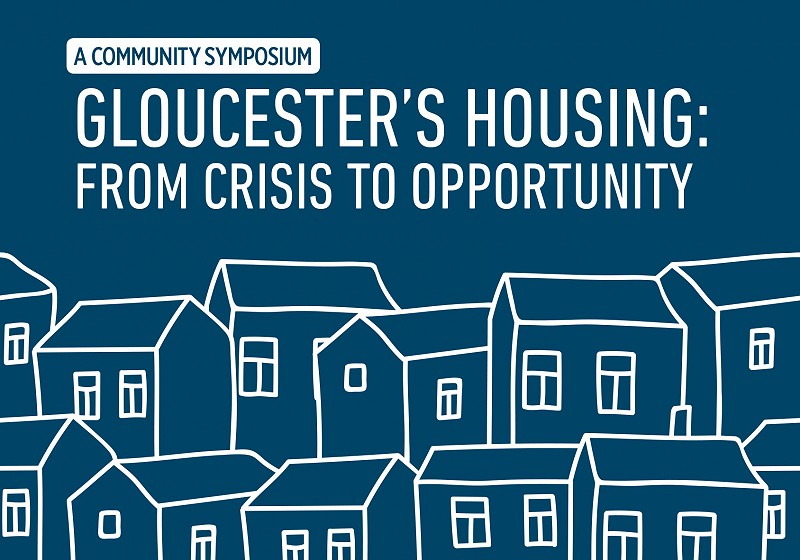 The Gloucester Meetinghouse Foundation's symposium on November 16 drew a large audience interested in hearing ideas on how to turn Gloucester's housing situation from crisis to opportunity.
The initial panel discussion featuring Shawn Henry, Gloucester Planning Board, Robert Gillis, President of the Cape Ann Savings Bank, Ken Riehl, CEO of the Cape Ann Chamber of Commerce and David Houlden, of the Gloucester Housing Authority spoke of the conditions that contribute to the lack of affordable housing and how they are holding the city back. Among them is the gap between local salaries and the income that would be required to purchase or rent housing in the Gloucester area.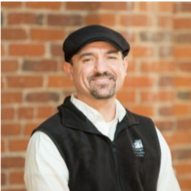 Keynote speaker Andrew DeFranza of Harborlight Community Partners, offered a way to determine the current state of housing in a given community and the direction in which it is going. His advice was to examine the demographics, policies, and flow of money and how they define and contribute to the housing situation. He recommended creating public partnerships to generate affordable housing projects and to keep supportive language around affordable housing in public policy.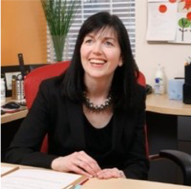 Peggy Hegarty-Steck, President and Executive Director of Action, Inc. spoke of the challenges in developing the affordable housing project at the former Cameron's Restaurant in Gloucester which began in 2015. Funding for the project was delayed as a result of current practice that offers a single funding cycle each year rather than the previous two funding cycles.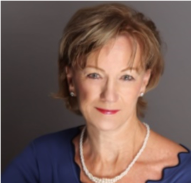 Ruth Pino has been a realtor in Gloucester for many years and reflected on past practices in developing residential housing and how changes in policy over time now restrict certain options.
Residents also described their personal experiences in seeking affordable housing in Gloucester. Katie O'Leary, Homeless Prevention Case Manager at Wellspring House, who works to help clients secure local housing, faces a similar problem when searching for affordable housing for her own family. Rob Newton found himself seeking temporary shelter with friends when the rent on the Cape Ann Cinema and Stage was increased beyond what he was able to afford and he was searching for personal housing at the same time. Clare Higgins, who moved to Gloucester to continue to explore her artistic career and work with seARTS, discovered that housing in Gloucester presented challenges similar to what she experienced in New York City.
Carl Gustin of the Economic Development and Industrial Corporation offered some revealing statistics on the current state of local housing. And Tom Balf, Founder and Principal of OceanVest shared some novel approaches to housing including pre-fabricated units and a floating barge.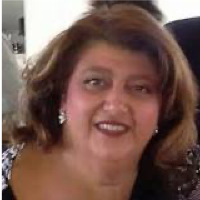 In her summation, Mayor Sefatia Romeo-Theken reminded the audience that change often happens at a very local level and described a few of the success stories that had their origins in some of the city's wards. She encouraged attendees to get involved at the ward level and to continue to dialogue around the issue of housing.
The mission of the Gloucester Meetinghouse Foundation is to preserve the historic 1806 Meetinghouse, as a civic hub, entertainment venue, and community center. In support of its mission, the Foundation organizes community conversations on topics of timely interest to the citizens of Cape Ann. Previous symposiums have included historic preservation and sustainability and gun violence. TownGreen2025, a program of the Gloucester Meetinghouse Foundation, is taking bold action to lower Cape Ann's carbon footprint and to lead the community effort to address the effects of climate change.
For a complete outline of the November 16 Symposium, Gloucester's Housing: From Crisis to Opportunity, and for more information on monthly concerts and events of the Gloucester Meetinghouse Foundation, please visit our website at www.gloucestermeetinghouse.org.
Help us spread the word!
You can help us spread the word by sharing this on Facebook, Twitter, Google Plus, or by Email... thanks!