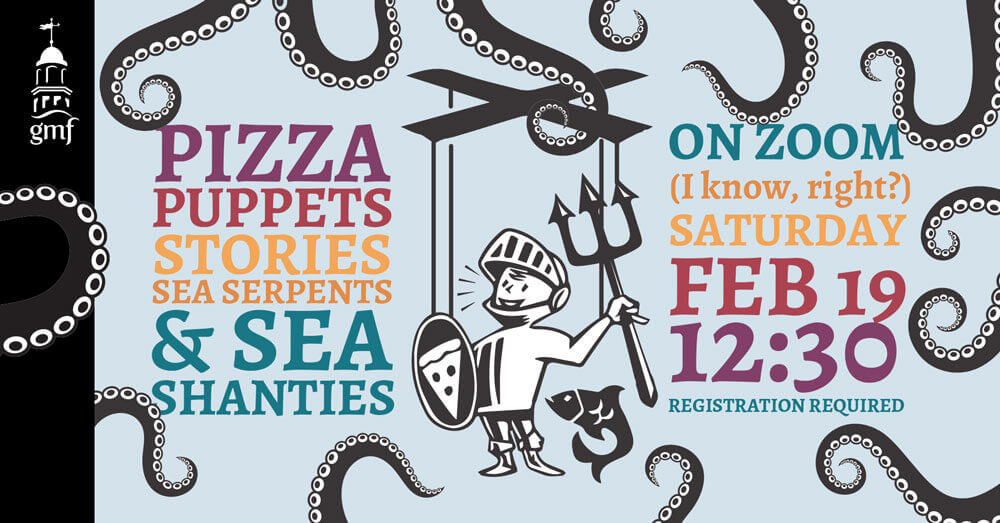 Pizza, Puppets, Stories, Serpents and Sea-Shanties
Saturday, February 19th, 2022, 12:30pm
Kicking off February school vacation, another FREE Children's Program of entertainment is on tap for Saturday, Feb. 19 — right in your home, via virtual internet Zoom broadcast — presented by the Gloucester Meetinghouse Foundation to start Cape Ann public schools' 2022 Winter Vacation.

From 12:30 to 2 p.m., the lineup includes story time with book readings by popular Cape Ann authors and performers Stan & Daisy Nell, Alice Gardner, Peter Berkrot, and Pat Johnson; a puppet show by Through Me to You Puppeteers, and a sea-shanties singalong led by Rockport musician Corey Wrinn.

REGISTRATION IS REQUIRED. Sign up and you'll get an email with a link for connecting to Zoom. You will also get an option to download a free printable PDF of Daisy Nell's new coloring book Moxie and the Whale; the printed version is for sale now at Maritime Gloucester.
The Program:
Daisy Nell & Stan Collinson — reading, singing, from her coloring book Moxie and the Whale.
Alice Gardner — Gloucester author reading her book St. Peter's Fiesta, Gloucester, Ma
Peter Berkrot — acclaimed audio-book narrator reading Gloucester Sea Serpent by M.T. Anderson
Leigh Baltzer — puppeteer from Through Me To You Puppetry
Pat Johnson — reading longtime favorite Katy and the Big Snow by Virginia Lee Burton
Corey Wrinn — Rockport musician/artist singing original sea-shanties with guitar.
Make a donation in support of GMF!
Make a contribution to the GMF to help in the restoration of the Green, the Tower, and the Meetinghouse!
Note: Gifts may be made in memory or in honor of someone. You will have the option to add a note to the transaction on the next page.