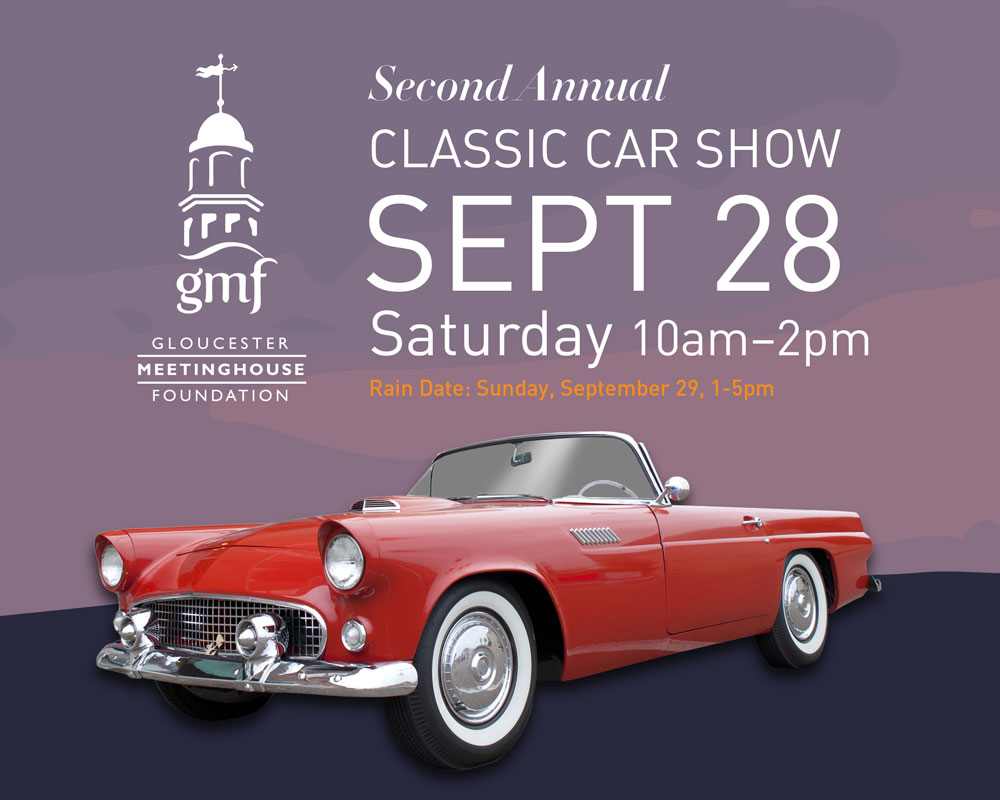 2nd Annual Car Show
Saturday, September 28th, 2019, 10:00am
This Saturday, September 28th we will host our second annual car show called CAPE ANN CLASSIC CARS ON THE GREEN from 10:00am to 2:00pm. Please join us for a day of family fun with beautiful vintage cars displayed on the green in front of the Meetinghouse

Interested in showing your classic?
If you or a friend would like to enter your classic car in the competition please arrive before 10:00am. The entrance fee is $10. You may pre-register or request additional information by emailing me at c.nazarian@gloucestermeetinghouse.org. The spectacularly warm fall weather is predicted to continue through the weekend, so please join us on Meetinghouse Green for another delightful community event!
Admission is free but free-will donations towards the ongoing preservation of the building are requested. The event will include live music by John Hicks and his Giddy Gang. Tours of the Meetinghouse interior and treasures will be offered on the half-hour, including a demonstration of the 1893 Hutchings-Fisk pipe organ. Food and beverages will be available.

The best part is you get to judge the cars with handsome trophies awarded to the winners at the conclusion of the show in the following categories:
| | | |
| --- | --- | --- |
| 1 | FIRST PRIZE | Best in Show, the People's Choice |
| 2 | ELEGANCE | The most elegant car |
| 3 | LUXURY | The car with the most luxurious interior |
| 4 | GRAND TOURING | The best road-trip car |
| 5 | SPORT | The best racing car |
| 6 | OSTENTATIOUS | The showiest car |
| 7 | PRACTICAL | The most useful vehicle |
| 8 | BEAUTIFUL | The car with the best styled exterior |
| 9 | DELIGHTFUL | The most fun to drive |
Don't forget!
We would love to have you join us for this event! If you would like to add a reminder to your personal calendar, select which calendar service you use from the dropdown below.
Add this event to your personal calendar
09/28/2019 10:00 AM
12/31/1969 07:00 PM
America/New_York
2nd Annual Car Show
This Saturday, September 28th we will host our second annual car show called CAPE ANN CLASSIC CARS ON THE GREEN from 10:00am to 2:00pm. Please join us for a day of family fun with beautiful vintage cars displayed on the green in front of the Meetinghouse

Gloucester Meetinghouse, 10 Church Street, Gloucester, MA 01930
Gloucester Meetinghouse Foundation
info@gloucestermeetinghouse.org
false
MM/DD/YYYY
90