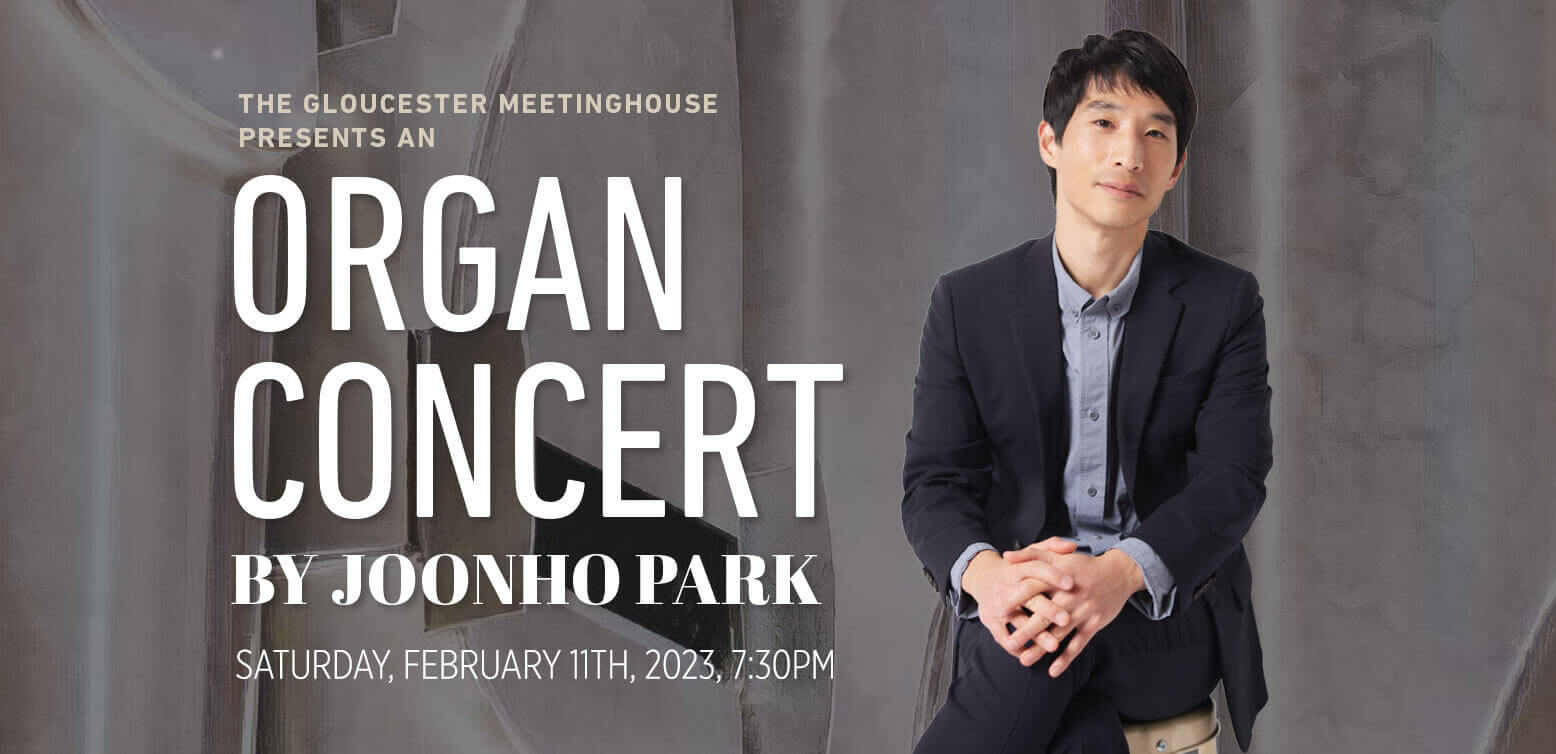 Organ Concert by Joonho Park
Saturday, February 11th, 2023, 7:30pm
Joonho Park, Korean organ virtuoso, will perform a wide-ranging program of great pieces on the 1893 Hutchings-Fisk pipe organ on Saturday, February 11 at 7:30pm in the historic (1806) Gloucester Meetinghouse. He will display the many tone colors and sonorities of this fine instrument in works of Gigout, Bach, Fauré, Mendelssohn, Dupré, Mozart, Liszt and Vierne. His previous Gloucester performance was in 2017, performing a stunning all-Bach program. Cape Ann welcomes him back to the Gloucester Meetinghouse as part of an international concert tour.
Beginning his musical studies in Seoul, South Korea, Joonho Park was graduated from the Korea National University of Arts in 2007. He went on to study with Jon Laukivik at the University of Performing Arts and Music in Stuttgart, Germany and with and Michel Bouvard at the Conservatory in Toulouse, France. He was recently appointed as professor of organ at the University of Texas at Austin and currently serves as an adjunct professor at the Hanyang University and at the Korea National University of Arts in Seoul, South Korea.
He is a busy international performer, with solo recital venues including: Bachwoche Ansbach, Stiftskirche in Stuttgart; Lorenzkirche in Nürnberg; Markt Kirche in Halle/Saale; Konstantin-Basilika in Trier; St. Jakobi Church in Lübeck; Westminster Cathedral; Westminster Abbey; St. John's, Smith Square; St Albans International Organ Festival, Kings College Cambridge, and Magdalen College Oxford. He has also performed in many organ festivals such as: Galway Cathedral, Pipeworks in Dublin; Kilkenny Art Festival; Festival Toulouse Les Orgues; Summer Organ Festival in Bordeaux; and Quincena Musical de San Sebastián.
In his home city of Seoul, he is regularly invited to play at the Lotte Concert Hall. He has also played in various concert venues in Japan, including: the landmark Fisk organ in the Minato Mirai concert hall in Yokohama; Lilia Hall; Opera City; Musashino cultural hall in Tokyo; and Parnassos Hall in Himeji.
PROGRAM
Eugène Gigout (1844-1925)
Johann Sebastian Bach (1685-1750)
Fugue in b minor after a theme by Arcangelo Corelli BWV 579
Gabriel Fauré (1845-1924)
Pelléas et Mélisande, op.80 (Transcription for Organ solo by Louis Robiard):
1. Fileuse
2. Sicilienne
Felix Mendelssohn Bartholdy (1809-1847)
Sonata no. 5, op. 65, no. 5: Andante, Adante con moto, Allegro maestoso
Marcel Dupré (1886-1971)
Cortège et litanie, op.19, no.2
Wolfgang Amadeus Mozart (1756-1791)
Church Sonata in C major, K.336 (Transcription by Zsigmond Szathmáry): Allegro
Franz Liszt (1811-1886)
Evocation à la chapelle sixtine
Louis Vierne (1870-1937)
Les cloches de Hinckley from Pièces de fantaisie IV, op.5